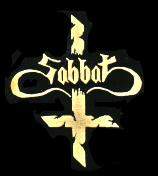 CD / LP Review Part 2

LIVE CURSE CD
(Heavy Metal Super Star Records HMSS CD-001, Japan 1999)
The tracks:

01.Satanic Rites
02.Curdle the Blood
03.Crest of Satan
04. Poison Child
05.Immortality of the Soul
06. Devil's Sperm is Cold
07. Black Fire
08. Mion's Hill
09. Intro/Welcome to Sabbat
10. Poison Child
11. Children of Hell
12. Black Fire
13. Immortality of the Soul
14. Mion's Hill
This is an official bootleg CD of SABBAT's farewell gig. The first 8 tracks are recorded live at Gekion Gekijo, Nagoya 13 August 1987 and the last 6 tracks are recorded live at Freaks, Ohmiya 24 November 1986. The CD comes jam packed with a lyric booklet + bio & discography + additional words by the producer, Yohta Takahashi also of the r.i.p. FETU zine. The Nagoya show has only 43 Sabbatical maniacs present (the producer said so in the booklet).
The CD plays continuously without any track indexing and you can hear all 43 Nagoyan maniacs there clearing their throats, farting and gut spilling to SABBAT. Put on your bullet belt & play this loud with surround sound 'on' & you'll be warped back to mighty 80's.
LIVE PANICA 10" MLP
(Heavy Metal Super Star Records HMSS CD-03, Japan 1999)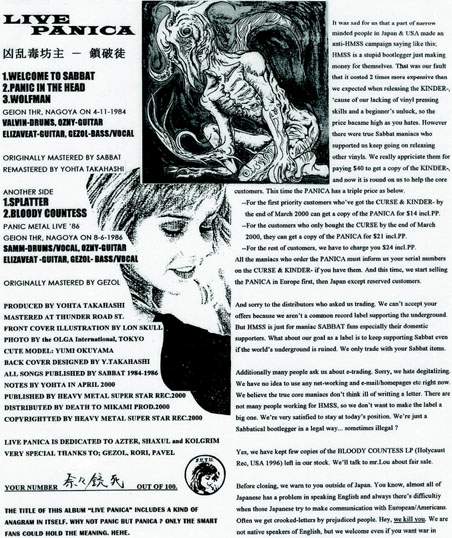 The tracks :
Side A : . Welcome to Sabbat
. Panic in the Head
. Wolfman
Recorded Live at Geion Theatre, Nagoya 04 November 1984. Line-up: Gezol (bass/vocals), Ozny (guitars), Elizaveat (guitars), Valvin (drums).
Side B : . Splatter
. Bloody Countess
Recorded Live at Geion Theatre, Nagoya 08 June 1986. Line-up: Gezol (bass/vocals), Ozny (guitars), Elizaveat (guitars), and Samm (drums).
This mini-LP feature old-recorded 'live' materials from the late 80's and comes in a cool clear blue vinyl. However, there are no indications, which side is which…but as long as you're familiar with SABBAT's materials, you'll figure it out.
Ultra killer limited to 100 numbered copies but, unfortunately, the numbering is done in Japanese numerals. However, the first 25 copies come with a full handmade colored sleeve & obi (sleeve in Japanese) and included also are 2 replica tickets… I suppose, from the 2 shows that are pressed on this LP. HMSS records claims that the LP was pressed in Czechoslovakia but the sticker label on the LP mentions 'MADE IN USA'. Hmmm…
There are several options in buying these LP;
Those who have;
• LIVE CURSE CD – $21 for LIVE PANICA postage paid. (Bought by the end of March 2000)
• LIVE KINDERGARDEN LP & LIVE CURSE CD - $14 LIVE PANICA with postage paid(Priority Customer, by the end of March 2000)
• Don't have both releases - $24 postage paid.
This bootleg isn't the best by HMSS Records, as the sound could be further improved. Maybe the shows were recorded off a stereo recorder instead of line-in recording, from the instruments to the sound mixer, or maybe the sound that night wasn't at its peak. That aside, this LP features some really great songs, like, 'Wolfman' and 'Bloody countess'. Quality music will never be plagued by bad sound.
The songs on Side A were recorded even before SABBAT enters the studio for their first SABBAT 7" and features old songs by the bands. While the other Side of the LP are tracks after the SABBAT self-titled 7" were released. Both shows were with the original line up.
KARISMA CD
(Iron Pegasus Records IP05, Germany 1999)
The tracks:

1. Karisma
2. Bowray Zamurai (Samurai Zombies)
3. Orochie
4. Harmageddon
5. Makutsu (Den of the Hades)
6. Okiku Ningyo (Okiku Doll of the Devil)
7. Yoochuu (Japanese Revelation)
This is an avant-garde 6th album with the fusion of ancient Japanese melody with old SABBAT cult Blacking Metal riffing. The cover & inserts shows the band mystically posing in front of a Japanese altar complete with a candlelight lit statuette on it. All song sung in Japanese and comes with a lyric sheet in Japanese also. The first track features a short intro by Mr.Furukawa on the 'Koto', a Japanese string musical instrument.
Limited to 150 copies. No individual numbering. Iron Pegasus Records has released an English version of this album on a limited to 333 copies pic-disc vinyl in September 2000. Buy & Die!!