SABBAT MANIA!

I only got few releases which havenít yet featured in Steel Madness. I really lacked of time in keeping track of SABBATical activities due to my studies and fuck! I missed some cult stuffs. Time will no longer a problem because I have all the time needed after this issue is out! -by Syukri
BLOODY COUNTESS Tape
(Afterlife Productions CFB001, Malaysia 2002)
Side Hate
01. Welcome To Sabbat - Splatter
02. Bring The Head Of Satan
03. Bloody Countess
04. Panic In The Head
05. Poisonchild
06. The Egg Of Motley (Madara No Tomago)

Side Evil
01. Children Of Hell
02. Kanashibari Part 1
03. Bloody Countess
04. Immortality Of The Soul
05. Long Way To The Beyond
06. C.D.E.
Another re-release of this tape and this time by Malaysian AFTERLIFE PRODUCTION (own by DEADHEAD Zine editor). After interviews in Deadhead and a special tribute made by Steel Madness Zine, we hope the more Malaysian are already aware of the SABBAT. This version includes 4 bonus tracks which placed on Side Evil. Either these songs have been released before in HMSS releases, I am not sure.

The other version of 'Bloody Countess' song features Ozny on guitars but no info on the year this song was recorded. I can only guess it might be recorded before the SABBAT becomes a trio somewhere in 1986. The next bonus song, 'Immortality Of The Soul', recorded at Studio S.K. (again the date is not mentioned) with Samm doing the vocals. 'Long way To The Beyond' is a live track at Yanta Rockmayhem in 1987 and the last sond 'C.D.E.' is a rehearsal song recorded in 1986 (with Gezol, Elizaveat and Ozny).

There are also rare footage of the band and some words spoken by Gezol in cassette sleeve. Only 500 copies pressed and mine #55.
BRAZILIAN DEMONSLAUGHT 7"EP
(Live Recordings Attack!!! LRA001EP/EHDS002, Brazil 2001)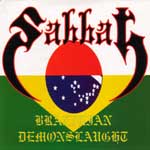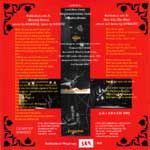 Sabbatical Side A
01. Merciful Forest

Sabbatical Side B
01. Ride Like The Wind
Serial number of this 7" EP is EHDS002. Probably that means this is the second release in the "Demonslaught" series. There is "Sabbatical Demonslaught" 7" released by View Beyond in 1999 but other than that, I don't know any Demonslaught prior to this.

The songs are recorded and mixed in 2001 at Studio Light, Witch's Mill Studio and Ghostrain Studio and mastered at Witch's Mill also in the same year. The song "Merciful Forest" is the usual SABBAT blacking thrash metal.

However "Ride Like The Wind" is a bit special because the music and lyrics are composed by GORGON. Just imagine Gorgon's NWOBHM with Gezol's growl or Metalucifer's music with Sabbat-style vocals. That is how this song sounds like. Damn interesting!

The EP is white (or cream) colored. The lyrics are printed at the back of the jacket. Only 999 copies available and mine-numbered 189.
ENVENOM CD
(Entropy Productions DE104CD, Italy 2002)
01. Bewitch
02 .Satan Bless You
03. Evil Nations
04. Devil Worship
05. Reek Of Cremation
06. Death Temptation
07. King Of Hell
08. The Sixth Candle ~Eviler
09. Carcassvoice
10. Dead March
11. Black Fire
12. Reminiscent Bells
The CD issued by Entropy Productions in 1995 is now made available again by Entropy/Iron Tyrant. Limited in 500 copies but not individual numbering. The label mentioned earlier that they are going to use red color (originally it was in gold color) as requested by Gezol but I got it in yellow color. I don't have the 1995 pressing so I can't make any comparison beside the front cover which is too obvious.
KAMIKAZE SPLITTING ROAR Tape
(Withhammer Productions WHP-024D, Thailand 2003)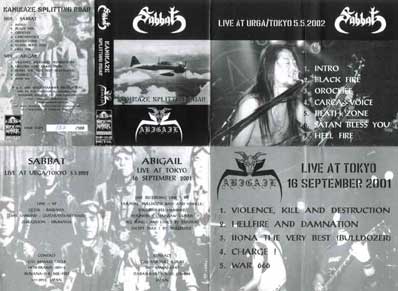 Side SABBAT
01. Intro
02. Black Fire
03. Orochee
04. Carcassvoice
05. Death Zone
06. Satan Bless You
07. Hell Fire

Side ABIGAIL
01. Violence, Kill And Destruction
02. Hellfire And Damnmation
03. Ilona The Very Best (Bulldozer)
04. Charge!
05. War 666
SABBAT and ABIGAIL, seems to be good a pair. Both are great, cult bands for me. Thanks to Jerasak for releasing this tape (at last a pro-release of ABIGAIL live songs!). Yes, this tape features live songs from both bands. SABBAT's side was recorded at Urga (Tokyo) on 5th May 2002 while ABIGAIL's recorded also in Tokyo on 16th September 2001. ABIGAIL's songs are short and there are only 5 songs so there are many blank space on the tape.

The tape is released in limited edition of 500 copies (mine #137) and the cassette sleeve is in the form of foldable (almost the size of...) A4 paper featuring logos and photos of the bands.