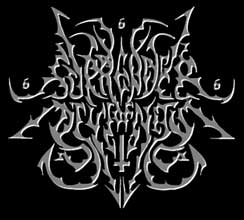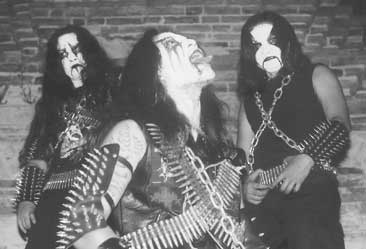 Sawadikap and Satanik WarHailz Bro Whathayakorn. Been Fukking whores lately? How the Hellpits right now?

All Christ-beheading Hailz, Brother. Hell yeah!!! Beside busying immolates these tight-pussy sluts (oh yeah ~ed) we're working hard for the brand new satanic blasphemy, which I hope we could finish the recording of this demonic onslaught of all times somewhere in the end of this year.

The band soon will be Release 7"EP under Legion Of Death Records France so how did you get the Deal with that Label? You contact them or they had listen your stuff?

Hell, at the time, when you read this Hellish zine, I'm sure our "Immolating The Son Of The Whore" 7"EP will be definitely sold out, since now there're only 20 copies left in the LEGION OF DEATH's armory. However, this 7"EP was released in a very limited edition: 300 hand-numbered copies, only for the true die-hard maniacs of the horde who deserved to own this piece of blasphemy. I and Shaxul (the commander of this infernal label) are true blood-brothers for more than 4-5 years by now. And we have the same satanic views as well as anti-all religions attitude. We planed to release this hellish 7"EP since the year 2000. So we waited for 2 years to vomit forth this infernal Asian massacre. LEGION OF DEATH is without any doubt, one of the truest underground record labels, and more over than that this mighty Label is standing for releasing the true satanic gems from ASIA and SOUTH AMERICA only, which I really respect them with their underground attitude. So it's our highest honored to be a part of the mighty LEGION OF DEATH's horde.

That 7"EP also will include cover song from Mighty Beast From The East IMPIETY. What song you cover and why IMPIETY not others band that influences your band like MARDUK, MAYHEM, DARK FUNERAL, ENTHRONED etc or you wanna paying homage to IMPIETY?

YES, there're 2 hymns, featuring in this 7"EP, the 1st one is our exclusive new assault called "Immolating The Son Of The whore" and a 2nd one is a cover hymn of IMPIETY: "Anal Madonna", taken from their debut full-length in 96. Definitely, both hymns are exclusively written/recorded for this 7"EP, and it will never be released anywhere else. Why should we cover those European bands, while we have already a great Southeast Asian war-demonic horde that worth-covering? Hell yeah, you're damned Right!! This hymn is dedicated to the eternal war-brotherhoods between SURRENDER OF DIVINITY and the mighty IMPIETY. (Apokalyptik WarHailz to GoatBrotherz IMPIETY ~ed)

It has been a while since the release of your debut CD "Oriental Hell Rhythmics" 2000. During that period what had the band doing? I guess been writing new Apokalyptik torment or Destroying stage for the past 2 years?

That's totally damned right!!!!!! Brother!!! We were too much busied with those stages holocaust and a lot of shits happened in our hell-camp for the past 2 years, that's why the release of our 2nd satanic blasphemy is delayed.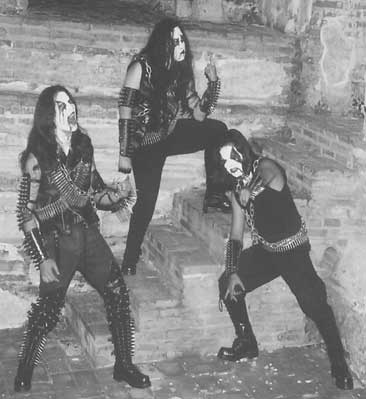 How about your 2nd album? If I'm not wrong the band now busy preparing for the 2nd torment so which studio you will record it? Still in Thailand or oversea? What can readers expect from your upcoming 2nd album, differs from your debut CD ?
Regarding the studio for our next Christ-tormenting album, it's still not confirm!! But I guess, we'll most likely record it at a studio here in Bangkok called, EQ studio where we recorded our 7"EP. At the first place we wished to record the new album somewhere in Europe, but we still can't find the right place for us, since we want the sounds of the new album to be fucking raw and powerful as hell. Also we don't need those type of Swedish sounds. We really wanted to record our new album at the Battledome studio in Singapore where the mighty Impiety recorded their cult blasphemy: "Skullfucking Armageddon", but unfortunately, this studio is already closed down. Hell, concerning our new hell-hymns, I can promise with you that your ears will fucking bleed by one of the most brutal Black Metal albums in the Metal's history Hahaha!!! Expect nothing, but the true Christ-fucking brutal, fast 666 km/hour, raw and evil as hell, Black "fucking" Metal hell-hymns from our new Christ-beheading assault.

About the deal with Psychic Scream Entertainment. Are you satisfied with their promotion for your Debut CD? I'm know your deal with P.S. is just for 2 album only so after release the 2nd album did you will continue working with P.S or with foreign label?

So far, I'm satisfied with what PSE have worked for us, bro. I think their work for the production and promotion is great!! And they always pay our royalty on time, which is OK. Well, there's something could be better, but I don't need to complain anything about them. Hell, only the time will tell, whether we'd continue releasing our 3rd albums with PSE or other labels.

If I'm not wrong DRAKKAR PROD France will re-release your debut CD and KULT Rehearsal Demo 98. So did you think re-release of your stuff by European label is a short way to get more response from oversea? DRAKKAR also is a good Black Metal label why not working with this label for your 2nd album?

Well, I haven't heard about this at all. Maybe there could be some mistaken. Yes, Drakkar is definitely a great underground Black Metal label. I and Sir Noctu (Drakkar's owner) also have a great relationship to each others. But the main problem that we still can't work with them from now is the payment for the recording cost of the band. However, Drakkar is a great supporter of our horde and we're always salutes them. However, I hope to work something out with them in the near future.

The band now with 3 members after firing former bassist, Avajee. Do you think with 3 members S.O.Divinity will be more powerful and tight from every aspect?

Hell, we're 4 demons again recently, "Ekaluxx" (Bass/Vokills) is gone due to his life is became too hectic. Anyway, we're fucking honored to announce that we have got "Monchai" (our ex-HellVomits since the demo days) and Avaejee (our ex-bass holocaust) back to the horde as the permanent members again, after all of their troubles have been destroyed. So the very update line-ups of the horde are: Monchai - Black Vomits, Whathayakorn - 6 strings wings of Satan, Avaejee - 4 strings GoatAxe, and Paritat - Christ-barraging commander. Well, for us to have 3 or 4 members is just the same, since we'll definitely put all of our energies, bloods and honors in every stages holocaust that the horde is gonna be destroyed. Anyway, I admit that I feel the horde is becoming more complete with this recent hellish line-up

SODivinity have a good relationship with IMPIETY "Asian most Extreme Black/Death Metal King" so when your know them? Did you have all their Release and what your comment about their latest Album "Kaos Komand 696"?

Of course!!! I fucking love their new blasphemic assault, K.K.696 is an ultimately fucking powerful and blasphemous release ever. I'd say YES, I have all of their assaults, from the first demo till their latest album. Hell, I did organize a show for them called GOD BEHEADING LIVE 2000, so that's the first time I met these eternal barbarian satanic war-brothers.

The past 2 years you have do small tours in Malaysia and Singapore (2000). What's your comment about the Tour? Comparing the crowd from Thailand, Malaysia and Singapore where you think the band get great support from crowd when the band perform?

FUCK, our first Malaysian/Singaporean tour in the year 2000 was a real fucking horrible organized, we didn't receive so many shit that the organizer have agreed to provide us, and that's suck. However, it was a great time for us having chance to bang our demonic skulls with so many true Malaysian/Singaporean sons of the underworld during that days. I think our horde have received the same infernal supports from these 3 infernal kingdoms. I think, the Thai and Singaporean maniacs are more into "skull-banging" and much crazier when attending Metal gigs/shows, while Malaysian hell-hordes are seemed like they prefer to stand and watches all the bands playing only.

You also have killer and memorable experiences sharing stage with Germany Godz Of Thrash Metal SODOM in Thailand (June 2002) and Sweden Black Metallers DARK FUNERAL in Singapore (October 2002)! What do your feel about the whole thing?

Arrgghhhhh!!!!!! It's surely a great memorable for us to share the stage holocaust with the cult SODOM and also the mighty war-brothers IMPIETY last year. Sodom played their KILLER set with all of their cults hymns, and I was in the hell-front banging my infernal skulls there. Fucking total hell on BANGKOK!!! Impiety also did their mighty Kaos set and destroyed the Thai hellish stage in that night completely. All hailz the cult SODOM and the mighty IMPIETY!!! Well, the show with Dark Funeral went completely holocaust as fuck!!!!!! The Singaporean hell-hordes were fucking crazy head-banging maniacs with our hell-set that night. All highest hailz to them!!! We had a fucking great memorable Alcohol, Metal, chain, leather and spike time with our war-brothers IMPIETY again in Singapore. 666 megatons of thanks to the mighty IMPIETY for their great hellish hospitality. Well, I'd say Dark Funeral played pretty boring set there in my opinion, which is horrible!! Maybe they're too much drunk before playing hahaha

What your current playlist right now? Did you listen to others Metal like Death/ Thrash/ Heavy or you just stick in Black Metal?

OK, I'd better leave you here the 10 blasphemous albums/demos/eps that possessing me, recently:
Svest (fra) - Scarification of Soul Demo'98
Morbosidad (usa) - Bajo el…… 7"EP
Anal Vomit (per) From Peruvian Hell 7"EP
Vomitor (aus) - Bleeding the priest LP
Unholy Archangel (gre)- 3 way split Tape with KULT and LUST
Kratornas (phi) - The onslaught of battle demons 10"MLP
Inquisiton (usa) - Invoking the majestic throne of Satan LP
Inkisitor (fra) - Demo
Terrorama (swe) - Misanthropic Genius Demo
Witchtrap (col) - Sorceress Bitch LP

Any good contact with label/ band/ individual from my HELLland? Any plans to come here again destroying stage?

Well, beside you and some hell-hordes, there's not a lot of Malaysian hordes I'm in contact with. Hell, there's only the time will tell for our horde destroying Malaysian stages again, bro. We're always ready to play there, but you know bro!!! the problem is the stupid "Black Metal Issue" in your country. Also I heard that all bands performing there can't wear corpse-paint, spike etc. which will be a big problem for us, since we can't go battle without these armors. So as soon as these stupid problems are solve out, then it would be our hellish honored, destroying the Malaysian hellish stages once again.

You also do a small Distribution for INCOFFIN PRODUCTIONS? I know you have re-released oversea band releases on tape version for South East Asia market? What about your band merchandises?

Yes, I'm running a small TAPE/MC label called INCOFFIN PRODS. This satanic label will be strictly released the true underground Black Metal assaults in CASSETTE TAPE format only, this is not because, Tape is popular here, but it's because that I'm a true tape-worshipper. In my humble opinion, cassette tape is a true Satan-spawning gem and it's surely as CULT as vinyl!!! I really like the sounds of tape, it's fit perfectly with Black Metal music. Most of people here in S.E.A doesn't really know the valuable of Tape and most of these kids here are only eager for buying those imported GAYLODIC CDs, which is fucking stupid!! I've some license tapes from the true satanic labels like: Drakkar Prods. (fra) and War Hammer recs.(usa) etc. available and also I'm gonna release some of our own pro-demos soon, such as Nechbeyth (sin) - debut Demo, Arphaxat (fra) - TBA demo etc. Recently, I'm searching for some true Brutal, Fast, Raw Black Metal bands who might be interested in releasing a pro-demo tape through our satanic label. So those true BM hordes, hiding in our Asian underworld, just emerge from your hell-pits and contact me or send me your promotional stuffs. If you're true mayhemic son of Satan, then we could have a blasphemous work together.

Thailand now have many good and Extreme bands like Deathguy, Lacerate, She's Gore and many more. Do you think the newer bands are necessary as they could help establish a Metal Scene there?

Yes, in Thailand we have some good DEATH Metal bands like those hordes you mentioned, but I think we're lacking more new-blood when its come to the true brutal, raw Black Metal who know how to play this blasphemous hymns only for Satan. Of course, great new comers, new dedicated hordes are very important for every underground Metal scenes.

SODivinity is Thai Black Metal King! You agree with me?

THAI BLACK METAL KING?? Haha!! Who could give a fuck about that, bro???

What your wish for this New Year 2003?Any plans desecrate European Stage?

Fuck the new year, bro!!!!! I guess we could be able to destroy Europe when the new album is unleashed, that will be a right time for our horde!!!

Ok Bro That's all. Do you wanna promote go on! Mighty Hailz n Good Luck For SODivinity for the future battle! Last words?

666 megatons of Thanks and hellish salutes for your hellish supports of our hell-horde, hellbrother!!! See you demon in the SONGKHLA HELLFEST 2003.Stay Satanic and remember Black Metal is only belong to Satan, not other stupid "religious" cunts!!!!! Death to all those who betrayed the oath of HIM!!!!! Horns up and Black till death!!!!!

Website: http://www.sodivinity.cjb.net