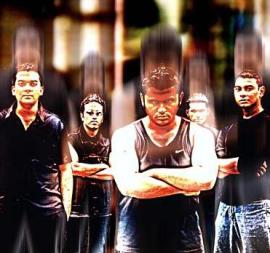 What was on the CD cover? Whose idea was that?
The idea for the cd cover was Shiva's. It represents something amorphous. Sort of like abstract art. It also looks like a human face. Also we did not want to represent anything in the cover.
14/07, beside being the date of the first gig you performed, are there any other reasons why choosing it the album title?
The great significance of the gig. The gig was very successful and brought us great satisfaction to be part of it.

So far how's the reaction from listener about the album especially from Malaysia? How about other part of the world. Is the album licensed or distributed abroad? It is still hard to find the album in oversea's mailorder though. Do you care about getting attention and recognition from international metal fans? I think the band have a good fanbase in India just like Rudra, am I right?
Malaysian response is good as there pretty much of listeners into melodic stuff. As for the other part of the world, it's still hard to say as the album is still on its way of reaching there.

As for overseas mail order, you can check with Kannan of Trishul Records. So far redstream.org are selling the CDs. in India its still early too confirm any fanbase as it is only our debut album. But we hope to get attention and recognition from international metal fans. We also got a review from a popular international website, www.metal-rules.com but apparently the reviewer thought we were from Malaysia cause the address was from our guy from Trishul Records in Malaysia. But it was a pretty good review for a new band like us.

I think Trishul is a good label. How did you guys got the deal with them? What do you think about the guys in the label? How was the deal with them?
We were pretty close with Rudra and Kannan heard our stuff and he was impressed with it. So he proposed to us whether if we were interested in signing under Trishul Records. Trishul Records are pretty professional, they also make a point to tell us in whatever they are doing in terms of promotions, distributions and gigs as well. We are comfortable working with them.


Based from the lyrics, Kaliyuga didn't have a specific concept or theme. Why? Do you think by having a certain concept will restriction the band?
Yes we think so. We prefer to be free in terms of lyrical expression. The lyrics department is Subash's. He usually writes whatever that is in his head.

Most people know that there are RUDRA members in the band. What was the real story of behind the formation of Kaliyuga?
Rudhra was split due to musical differences. Kathi left the band and formed Rudra with Shiva and Bala for the first album. Bala left the band as he wanted to concentrate on Kaliyuga, so for the second album Selvam was recruited. As Kaliyuga needed a vocalist, Subash who was a neighbourhood friend of Selvam's was brought into the band. And in the bass section, Arul who was a long time friend of Subash was recruited. Thus we became Kaliyuga.

The latest gig performed is on IMPIETY's album launch along with other new Singaporean bands which I haven't heard off. NECHBEYTH, IRONFIST, AZRAEL, MEZAVIRS and also MELTGSNOW if I am not mistaken. What do you think of Singaporean metal scene nowadays and also the new bands? Back then the scene seems to be divided with each bands with their own league.
The Singaporean metal scene is very different than before. Back then, like what you said each band has their own league. But nowadays it's about unity in metal. But there are a few black sheeps who make fools of themselves and ruining things. There are also a lot of young promising bands, and you can also see young metalheads which is very good for the scene.
The latest gig was the Kaos Kommand 696 gig which was with bands LIKE IRONFIST, MEZA VIRS, AZRAEL, NECHBEYTH, MELTG SNOW and IMPIETY. Nechbeyth are a very promising black metal band which you will get to hear them from time to time. Ironfist are a thrash band who has good stage presence, always worth watching. Azrael are an upcoming aggressive death metal band whose album will be released this year. Do check them out. Meza virs and meltg snow are pretty good melodic bands who are tight and have very good stage presence. If I'm not mistaken their albums too will be released later this year.

Have you heard of Rudra latest recording? What do you think of Narasima (I think that is the new album title)?
Not yet but u could tell that there's some good vibes. Narasimha are actually an upcoming band who are at the moment in their final stage of releasing their debut album.

What about Kaliyuga, when will hear the new releases from the band?
Tentatively its December 03 at least we will be ready to record as we are now currently doing new materials.

Have you heard about the black metal issue in Malaysia? What's your comment? I even got interviews from your local newspapers. I guess the media seems to like that issue very much.
These idiots will write about any topic that they could drag on and on and yet has not much impact if they write something wrong about. As for the issue, there's nothing much we could say as we are in a part of the world where there's no freedom of expression even in stuff like art.


Is there such cases happened there, I mean the media there saying shit about metal and then become a major headline?
Apart from slamdancing being banned and the organizers getting stick for bringing in dark funeral, Nope.

That's all for our first interview. Thanks for the time. Anything else to say to the headbangerz reading this intie?
Thanks for everything. To all the metalheads, KEEP THE FLAMES BURNING!!!!
Email: kaliyuga@pacific.net.sg
Website: http://fly.to/kaliyuga