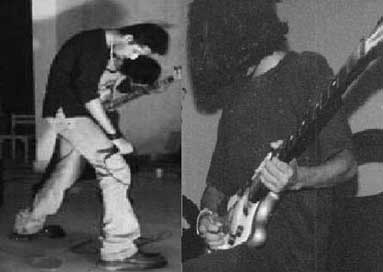 Hell Dormant, Coffin Feeder, tell us the history or/and the theory behind these names for people who want to know about things like biography and discography there is always http://www.helldormant.cjb.net.

Coffin Feeder: from the ruins of a black dark crypt in Karachi Pakistan (My home;)), amongst the debris of its remains, souls of unrest that once ruled as AUTOPSY GOTHIC and NOKTURNAL RUST emerged as wrath, joining hands to serve the dark left hand path of misery and despair. Me and Wasi (BlacKtearZ) along with Faisal (frost) decided to give our region a force that could prove to be a heavier than hell entry to balance the long past history of paki metal scene which always lacked true grindcore death.... keeping the point in mind that the popularity will definitely be on a lower scale as we don't have much true death heads here...and getting fed up of nu FUCKING metal, we thought of forming a force that could shake earth right from its bottom shivering all the fance looking towers of nu metal, rapcore and shitty pop.
Hell DORMANT was decided to be the name and from my huge collection of written songs, six were selected and I along with Wasi set off for this dark quest for blood and flesh. we have never yet performed live as in HELL DORMANT but I possess vast experience in live shits being the vocalist, songwriter for Autopsy Gothic, the pioneer of death metal in Pakistan. Wasi being the guitarist with me on drums in Nokturnal Rust is equally capable of summonng hell onearth with his graveyard melodies created by his guitars.
The basic theory behind HELL DORMANT is just a fantasy to be locked forever in HELL with intense pain being inflicted upon us.
BlacKtearZ: *numb*

Your lyrics tend to showcase much of an eye witness account rather than thoughts, have you ever faced/seen situations like you have written/described in your lyrics?

Coffin Feeder: man...I never really witnesses any such thing tough but my intense desire to create gore and extreme passion for blood made me write such lyrics.....and believe me. My lyrics are all I have. I remember my mom telling me. When I was a kid I used to chew uncooked flesh and spill red paint on me and scream......
BlacKtearZ: *numb* on to Coffin Feeder…lyrics are his brain waste.

Congratulations on the cd cover design but I must say that the recording is a bit "bassy". Tell us some thing about the recording of "Serve Our Blades"?

Coffin Feeder: man serve our blades is just our motto or insignia whatever you call it. The album title is mass grave. I recorded at simultaneously at my place and Wasi's. We never had studio class equipment but it was pretty close. The monitors count a lot in recording and unfortunately we didn't have good ones then. But for the next album which will be entitled 'DAWN OF IMPALEMENT' you will surely see the difference. Geeze and I remember this incident when the recording is going on and both of us. Me and Wasi sleeping ....man it was a hell of a time...I loved it.
BlacKtearZ: six long and cold nights...twenty packs of smoke... empty bellies...heavy bleedin eyes...mess of wires on the floor... that's all that I remember.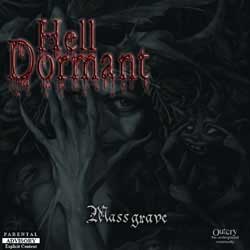 Your cd cover opens on the left side, now that's something that I haven't seen for an Arabic band too. Any particular reason for this?

Coffin Feeder: Arabic band....man I never had a CD of an Arabic band... though I would love to see some one already doing this kindda shit.
BlacKtearZ: duh....
Corpse paint, Nude chicks for black metal bands and guttural vocals and gory lyrics for death metal bands are a "selling point" for many bands; it's like a marketing strategy that the band or the band manager opts for. How important are lyrics and ideology for Hell Dormant? What does Hell Dormant mean/stand for?

Coffin Feeder: man the basic idea behind putting up a piece like this this....is to show the ugly face of humanity to the listeners...believe me we worked real hard to put together this album and every word that we wrote counts. Read mass grave and you will see that watching a MASS GRAVE IDENTIFIES OR DISCOVERED news story is much easier to view on the television but the intensity and ugliness is never taken into account...we are the inside sight of DEATH AGONY TORTURE and PAIN. And read aloud what blacktearz has replied.
BlacKtearZ: Commercialism sucks...death to the corporate bastards.

What does Hell Dormant think about the world's state at this very moment? Of course you guys are no charity organization but do you think your music can make a difference to anybody? If yes, how?

Coffin Feeder: man people are dying...thousands of them...do u think it made a difference....powerful nations will keep fucking weaker ones. The show will go on without any difference..in this fucked up world of today...this small piece of mind won't make any difference. At least on the world state.
BlacKtearZ: make a difference? Nah... don't think so.

How is the death metal/grind scene in Pakistan? The thank list in you cd contains names of some bands so should I guess that the scene is picking up in terms of audience and bands?

Coffin Feeder: We are the first to claim to be a grindcore band... we don't need to..the album says it all but apart from us death/black metal bands do exist and are going quiet good here..namely AUTOPSY GOTHIC, DUSK, NOKTURNAL RUST, etc.
BlacKtearZ: death metal...yeah there are few quiet good death metal acts around here..Dusk being the oldest one.then there are some live acts like Seth,Autopsy Gothic,Nokturnal Rust, Sickore..but Grindcore...nah...it was dead here before.

Tell us something about OUTCRY. Is it an organization, label…?

Coffin Feeder: Outcry brought us to life....outcry is our life.....an underground community formed by the frontman of Nokturnal rust LORD THOR along with OMER, and other underground die hard fans......Hail to Outcry....we will be heard.
BlacKtearZ: OUTCRY happened to be the saviour we wanted at that point in time...getting a commercial label here in Pakistan for any sort of music sounding like metal is worse than drowning in a pool of shit..OUTCRY is the only independent underground label who dares to speak for the damned.

Is the line up for "Serve Our Blades" permanent or are they session musicians? What's the lineup for Hell Dormant and what are its future plans?

Coffin Feeder: man there is no session musican here. me and BlacKtearZ are the permanent members of this project and we would love to have a drummer like that of berzerker, capable of beating 500 snares in a few seconds.....serve our blades again is just a statement to speak for the band motto.....that is it. We'll start working by the end of May on the next project of Hell Dormant 'Dawn of Impalement' which is promised to be heavier, gorier and uglier than our first album.
BlacKtearZ: session musicians? Are we again talkin' commercialism?

Have Hell Dormant ever played live? What's it to play live? How's the crowd in Pakistan? I bet they just yell out at you guys to play some covers?

Coffin Feeder: as I told before...playing live is fun...we get to throw out the burning lava that keeps boiling till we get on the stage....I love to go wild on stage...it feels like we will destroy the world with our music.....fuck I love playing live....but the crowd is, apart from a few handful of true metal heads, is full of shit...nu metal jerks attending underground concerts to have a chance to dope and impress chicks...I am planning to make an anti-poser commission which would be responsible to kick every poser out of our gigs...and yeah they scream for covers...I remember a mother fucker screaming back street boys...I got so pissed but I never showed it....;) though the scene is growing like hell.
BlacKtearZ: crowd here in Pakistan is kinda confused...and I'm only talkin abt the metal listening bunch. Most of them listen to metal either to pose or to impress chicks or wateva. But its getting better as the scene is growing.

Are you guys fulltime musicians or what? What do you do in your spare time? How old are you?

Coffin Feeder: spare time....man u gotta be kidding me...I am currently pursuing a masters degree in mass communication and teachers screw us up with assignments and shits but every spare second I get from the studies...I go for writing lyrics, playing drums and composing songs.
BlacKtearZ: spare time? Ha...guess that's the period when you are stuck in a wooden box six feet under the earth. I'm 26...happen to be an Electronic Engineer in a global organization. Have to work 6 days a week from dawn to late night...talk about spare time.

What's your favourite track on serve our blades? Why? Who writes the lyrics and music?

Coffin Feeder: every song has its own uniqueness but dissected is my favourite..starts off with a cannibal corpse touch with a head banging chorus and truly explicit lyrics describing the helplessness of an undead corpse falling victim at the hands of medical people.
BlacKtearZ: 'Twisted'...its got a driving riff and a powerful solo. Good for banging your brains out...lyrics are the remains of Coffin Feeder's brain..while both of us write the music.

What are your favourite bands? Have you heard any band from Asia? Which one and what do you think about the death metal scene in Asia?

Coffin Feeder: in Asia I haven't heard much except Rudra which is a very good band. I heard their song that was goldenleaf if I am not wrong. The guys are really good. Hail to them for keeping the flames burning. General influences ....CANNIBAL CORPSE is in my blood. I wish could join them, MORTICIAN is my all time favourite, KATAKLYSM, ORIGIN, KRISIUN, NAPALM DEATH, VOMITORY, DEATH, MORBID ANGLE, DEFLESHED, DEFAMATORY, CARCASS, the list seems to be endless but I bend over backwards for extreme grindcore stuff.
BlacKtearZ: I have listened to a lot of stuff coming from a variety of genres. My initial inspirations included old skool metal bands like Maiden, Sabbath, Dio etc but lately I have been much into doom/gothic and death like My Dying Bride, Anathema, Saturnus, Opeth, Death, Empyrium, Inflames and lots. Besides Pakistani bands, I have heard a bit of Rudra, an Asian death metal band. Well, talking about the whole of Asia on one scale is I guess not justified since the underground music scene is rather different in almost all of the countries.

Thanks a lot for taking some time off for this interview, I really appreciate it and I hope Hell Dormant goes a long way to produce good MUSIC, any final thoughts?

Coffin Feeder: Lots of respect and regards to you brother for bringing up this thing in India. Lots of respect to our brothers in Indian metal scene. I will definitely arrange a metal fest next year which will surely include great metal outfits from India and other Asian countries. KEEP FUCKING SUPPORTING METAL and ANAL FUCKING.
BlacKtearZ: final thoughts….well said….Keep on supporting Asian underground metal. Hail to all the black souls.