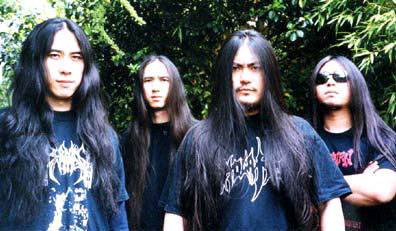 Hello Hideki! What have you been doing lately bro?

Hi Fir, my metal brother! Now we're just on tour promoting the new album in Japan. Had ten shows and another two are still left to be done. The tour is going very well so far and we have much fun everywhere we play!

And so "Divination" finally hit the light! How do you feel with the release of "Divination"?

Yeah, we're really proud of this album and satisfied with the release. Hope this album will bring us to the next higher stage…

I have listened to some of the tracks and believe me I'm surprised with the great song composition in "Divination". I must say this album is one hell of the most technical Death Metal album I have ever listened! Do you agree with me if I'm saying that "Divination" is the strongest material the band has ever produced? What can you say about this album in general?

Yes, this album is obviously the best one we've ever made and we're so happy with the result. I think this album came much evolved than any of our previous releases on every aspect… songs, lyrics, arranges, productions, and performances. We're proud of them all. These years we've toured and held many shows around the world and we could sublimate the experiences well to the album, I think. Yes, "Divination" is the album we've really wanted to make for a long time!!

When did the band start to create all the songs for "Divination"? There are 14 songs all together so I must say that the band must have took quite a long time to compose all the songs. Can you elaborate more on this? Who contribute the most in the song writing process? Both Yusuke and Norihisa? What is the song that can be described as "masterpiece" in "Divination"?

Sorry, I forgot the exact date now but the writing period of the songs is stated on the booklet so please check it out. It was just after "Ugliness Revealed" when we started writing the songs for this album. About the composing work, Yusuke brings the basis into the studio and we arrange them altogether. We're doing it instinctly rather than logically... for example we do without any sheet of music but just through jam sessions. Each of us has many ideas in our minds and quotes them properly. Well, we don't have particular favorite songs or recommends in the album. We love all songs impartially as parents love any sons equally! Though, the most difficult song to play is maybe "The Dormant Within". It's a little hard to make a groove on this complicated song.

Where was the album recorded? All I know is that Mr. Jim Morris mixed the album in his legendary Morrisound Studio. Did you record the album somewhere in Japan? If so, which studio and what's the name or the producer? Anyway concerning Morrisound, I guess this is the third time the band mixes their album in that legendary studio. Are you happy working with Mr. Jim? Why not working with Brian Griffin again?

The studio we used for "Divination" is Yellow Knife Studio in Tokyo. Yeah the same place we recorded "Ugliness Revealed". The name of the engineer is Akira Sakai, he's a good friend of ours. Well, we love and respect Morrisound and the guys at there. Jim and Tom, the Morris brothers, are really nice guys moreover the skillful engineers and it's always great for us to work with them. As you know Jim did "Erupted Wrath" and new one, and Tom did "Ugliness Revealed". Both of them are very kind and so professional at the same time. I heard "good producers" are sometime arrogant and hard to associate with, but Morris brothers are never. We love the environment of the studio too. It's very relaxing and comfortable. Brian is also a great producer and we really appreciate him too. It's cool if we can do something together again with him someday.

I haven't seen the lyrics yet. So what are lyrics mostly talking about in "Divination"? Something in between real life and death? Why the title "Divination"?

The lyrics in "Divination" are basically about a person who has gone insane and killed many people but I don't want you everybody to think it over superfluously. Actually I get inspirations from everything in the world. I write lyrics inspired from the things like natural phenomenon, books, newspapers, human relationships and so on and I'm also influenced from the brutality and the cruel point of view on death in Eastern philosophy. I reflect all of them to my lyrics, you know. The album title is a kind of irony. None of us DEFILED are Christians and I'm sick of that kind of silly religions. I don't care as far as it stays in and no more than a ridiculous fantasy but it definitely comes to conspire with politics or be the root of racism. I have my own point of view on Christianity as colored, yellow people and can't accept it. Anyway, I want everyone to check out my lyrics.

One thing for sure that impressed me a lot is Norihisa's bass-playing skill in "Divination". How did he manage to create such a jazz-like riffs in "Divination"? Did he create the riffs by himself or with the help/consult from the band? His bass solo work is undeniably amazing! Do you agree if I'm saying that his skill has established Defiled's musical concept as one of the most original Death Metal band in the world?

Yes, we're proud of him. He had formal education at a musical school and very well trained actually. He leaned many styles of music there and now he's especially into Fusion Jazz for example Victor Wooten or Marcus Miller. He always weaves strange phrases into here and there, we love it very much, and yeah it definitely makes our sound original. We usually make our own parts by ourselves severally when we compose the songs.

You have got a new label now. What makes you decided to be a part of Season Of Mist family? What has happened to Baphomet Recs.?

Nothing special happened with Baphomet. It was just one-shot contract and no fetters were put on our foot. So we sent the demo for "Divination" to some labels and Season of Mist gave us the best offer. The process was so simple. They promised us their best promotion and we are expecting it much now.

It has always been a tradition for any bands to start touring after releasing a new album. Have you planned something in support to "Divination"? If I'm not wrong you have played in Milwaukee Metal Fest for more than 3 times. Will you be playing in the fest again? Eric Hoffman of Deicide told me that Jack Koshic is a rip off person. Do you have anything to say?

Now we're just on tour in Japan with "Divination"! Of course we wanna tour the world too with this new album and actually now we Season of Mist and DEFILED are trying to get some good tour. Hope we can announce good news soon! About the Milwaukee fest, I don't know about the other bands' cases but we have never paid for the bill. We don't know Jack well and can't say anything on him. The person whom we've always talked to on this matter is not Jack but Don Decker of Nightfall Records. He's a great guy and he did release our first full length "Erupted Wrath" from his label in '99. We would play there anytime if they want us again.

You did a show in Kuala Lumpur Malaysia back in 2000. How was the response from the crowd in your opinion? Did you get to see the environment of Kuala Lumpur when you were in here? Anyway when can we see you again in here?

It really was a great night!! We love the kids in Kuala Lumpur and enjoyed the show very much. Yes, Eric the promoter brought us to some places in Kuala Lumpur and it's a great reminiscence for us. I don't know when but of course we'll be back as soon as possible!! Get ready for the DEFILED attack again! We definitely will kick your ass!

You have played along with a lot of famous metal bands such as Immolation, Cannibal Corpse, Morbid Angel, Incantation etc. Which one is the most memorable tour/show you have ever done? Where is the place that you have the most desire to tour/play? You haven't done any South American tour yet right?

No we haven't played in South America and yes, it's one of our dreams to tour there someday. I heard many great things on South America from my friends who have played there. We hope we can go there with this new album! We wanna go as many countries as possible with "Divination"… Well I can't give you the most memorable show or something because all of the shows we did with these bands were great. We learned much from them.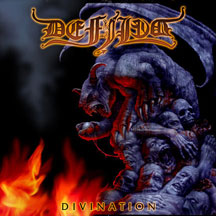 Again you have got Wes Benscoter painting the album cover for you. You seems to worship his work so much. The "Divination" artwork looks really good to me. Did you talk to him about the idea of the artwork or he designed it by using his own idea?

This is the artwork Wes has had it's original idea years. Yusuke and I saw the original one of this great artwork at his house, he once lived here in Japan, and decided soon to use it for our album. We talked our concept on "Divination" and show the lyrics to him, and then he processed and completed it. We're very excited to use this great artwork, anyway. This is ultimately the best cover artwork that Death Metal bands ever had!! We love Wes, he's a great guy and a gifted artist.

I guess that many Asian metalheads are proud to what you have achieved in many years. How do you look upon the Asian Metal Scene? Names like Defiled, Impiety, Sigh, Abigail for sure make us proud to be an Asian! Do you believe that the Asian Metal Scene can develop more in the future and can be as good as the scene in Europe and others in the world? Indonesia itself has hundreds (or thousands) of Death (mostly) / Black etc Metal bands! So what do you think?

We DEFILED are proud to be Japanese, and hope the scene will be magnified here in Asia. The most important thing for us Asian bands is to establish our own sound so called originality. There's no need to follow American or European styles at all. No need to be like Western bands. We should develop the scene from the inside… Readers, support the Death Metal underground!!

If I'm not wrong, I believe that the line up remain unchanged since the early days of the band. How do Defiled get to stay together? So far what is the problem that band usually face? Financial problem?

Yusuke founded this band in 92 and we have experienced several lineup changes in fact. Yuichi joined about three years ago and keeping present members since then. Yeah, the main problem is money. We are chronic lack of money, ha!! But, we really enjoy doing this band and don't mind how much problem we have to go with. We're fully devoted ourselves to DEFILED.

Now I would like to know your current playlist? Can you name me some albums that have been blowing your mind lately?

The new album of VITAL REMAINS is a killer! Dave, the drummer is a half Japanese and a good friend of ours and Glen from DEICIDE sang all songs in the album and it's superb. Well, frankly, we listen not only to Metal but also other kind of music. And I'm also not listening to Metal so much recently and more into old Rock staff. I like CACTUS and CAPTAIN BEYOND so much, for example. And LED ZEPPELIN's new live album that's just out was great too. And for your information, Yusuke loves Classic music of its most avant-garde way like Holst or Stravinski and you can find the elements in our songs… Check it out if you're interested in that.

Okay Hideki that's all. Do you have anything more to say to the readers before we end this interview? You can promote your album in here!

Thank you Fir for this great interview. Well, reading is believing... Readers, please listen to our brand new "Divination" album at all events and you will never be disappointed, I promise!! We went there to Malaysia three years ago as I said before and love your country very much! All friends we met there are so kind and the cities are very beautiful. Hope we can go there again soon!! See you on the road! Stay brutalized sick till then!!
Website: http://listen.to/defiled