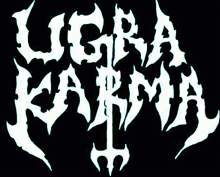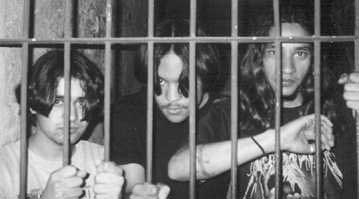 First of all can you Tell us something in brief about Ugra Karma, the past the present, who founded the band, what year.and why the name Ugra Karma?

Aayush, Subash & Prashant were thinking about forming an extreme metal band. Elsewhere Sunil & Prateek were thinking of forming another extreme metal band named NIHILIST. We all came into contact because Sunil & Subash are brothers. So after the gathering UGRA KARMA was born. UGRA KARMA was formed in late 2000 but all the members of UGRA KARMA have had their experiences with other bands before forming UGRA KARMA. Sunil used to play guitars and growl for his band in Kathmandu University. Aayush was the bass player for Yasht but he quit due to musical differences. Subash played guitars in a lot of different bands in his school and college. Prashant also played for a few bands. Our old bass player Roshan also used to play with Subash in their college band. Prateek used to play guitars & growl with Sunil back at the Kathmandu University.
Tell us something about the present and previous lineups of Ugra Karma. How would you define your music ?

The first lineup of Ugra Karma was Sunil on Guitars & Vox, Subash on Guitars, Aayush on Drums & Roshan on bass. This setup performed at 'Kathmandu Utsav'. We decided to name the band in Nepali, hence the name UGRA, which means EXTREME, KARMA, meaning WORK DONE. We even bagged the 'Best Rhythm Guitarist Of The Year' award in that contest. Later Prashant joined the band for a gig called, 'Shikhar Beat Contest', replacing Roshan. Then Prashant & Subash left & were replaced by Mani & Prateek. Mani left without doing anything with the band so Subash had to rejoin the band. Then we performed another gig called METAL-A BIG DAY OUT. In this gig everyone did everything like vox, guitars, bass & drums. Again Subash had to leave, so we're a trio right now with Aayush, Sunil & myself (Prateek). The three of us then recorded a demo. We call our music 'The Himalayan Metal Of Death', which is also the title of our demo. Basically we play raw, oldschool Black/Death Metal.
What is your current view on your music - are you developing in a particular direction or are you just 'perfecting' your style? To what extent do your think you have a style of your own?

I think it's pretty hard to say it right now. We're still a new band in terms of recording original material. I would say that we're 'perfecting' our own style rather than copying it from somewhere else.
What exactly got Ugra Karma into this kind of music? By which bands/music is Ugra Karma influenced? What are your favourite bands? Are you open-minded to other music?

The best reason for this would be that we're all extreme metalheads. Our musical choice tally a lot. Basically we're 80s metal fan or rather the old school black & death metal freaks. We like the following bands Slayer, Sepultura, Sodom, Sarcofago, Unleashed, Cannibal Corpse, Morbid Angel when they were in their EARLY days. We also like old bands like Death, Rigor Mortis, Macabre, Cranium & Sinister. We're admirers of talented stuffs but all of us are speed freaks. We crave power & speed in music. I think that's what drived us all in this genre. We don't listen to other stuffs than extreme metal. So in extreme metal too we detest bands like Limbonic Art, Mystic Forest....& shit black metal bands who go for pose rather than the main spirit of black metal.
What is the Death/Black Metal Scene like in Nepal? Do many people listen to Metal? Do you have places where a Metal band can performs?

There is no such scene as Death/Black Metal out here which is also the reason for our sufferring. We are the pioneers out here which is making our lives more difficult. There aren't many people out here who are into this scene. In fact, outside Kathmandu there must be about 10 metalheads only. My rough approximation is that there are about 100 metalheads in the whole of our country. There are places where live bands can perform but the scene is not there. Only handful of metalheads & the scene isn't lucrative so there are no sponsers for this genre. There are live acts but none are extreme.

Do you guys think that you have an audience in Nepal? Do you guys play live often?

The majority of our audience are our friends but there are still handful of other metalheads whom we don't know out here in Kathmandu. So we have a small fan following hahahaha. We're underground basically. We don't get sponsers so we don't play live that much. The sound system out here isn't that great either so we won't play live very often from now on unless we're confident about the system.
Tell us something about your demo. How did it come about? Are you satisfied with your final output?Would you like to change anything the next time?

We thought about recording a demo when we got bored due to poor quality sound system in most of our gigs. We had also been writing & composing songs since mid 90s. So we thought we should have a go at it. We were also helped by the fact that the studio owner/sound engineer Iman Shah is also a metal fan, specially Slayer. He helped us in many areas.
We were very much satisfied initially but that satisfaction level decreased because we thought that the guitar did not sound heavy enough. We would like to change that next time around.
What do the members of Ugra Karma do in their full-time? Are they full time musicians?

Sunil is an Electrical & Electronics engineeer, graduated from Kathmandu University. Aayush studies BBS & I study BCIS. The condition & the lack of support & promotion out here does not allow us to be a full time musician.
How important do you think is the role of Internet in the actual metal scene?

It is very important these days. Take the example of you & us. We would not have met in our lifetime if it wasn't for the internet. It has also helped metalheads like us in countries like Nepal to get to explore the extreme metal genre via the net.
Have you ever heard any Asian metal band? Which one? Where?

Yeah we have heard a Japanese band called 'Gore beyond Necropsy'. I found the mp3 at Relapse record's site, named 'Gurgling Spiral Repulsion', & it was pretty good.
What do you think of the Asian Metal Scene in General? What according to you is the future of the Asian Metal Scene?

Actually we're pretty much new to the Asian metal scene. We know that there are loads of bands out there in Japan, South Korea, Indonesia; but personally speaking I was surprised when I saw in your site that even South Asian countries like Pakistan, Bangladesh, Bhutan, Maldives has also extreme metal bands. You guys might have been surprised too when you found about us out here in Nepal hahahahahaa. Now we know that there are many bands out here in Asia too but almost all of them are very much underground. Many bands must have lived & died underground. We all lack support & promotion which when achieved the Asian Metal Terror will reign the world.
Any Final Words to your fans and the Asian Metal Force?

To our fans we don't demand much. All we want is their support for us. To you guys out there in Asian Metal Force, keep up this work you're doing. You guys are doing a tremendous job uniting the Asian Metal Underground. May you succeed in your mission & Asian Metal rule the world.

Ugra Karma
P.O.Box 3715
Kathmandu
Nepal
ugrakarma@antisocial.com
http://www.ugrakarma.net/