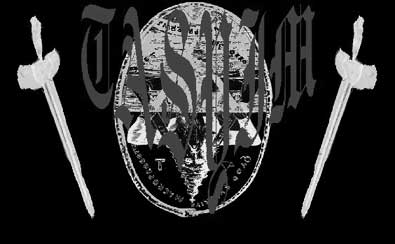 What is the greatest thing about TASYIM? Tell us about your band.
Thought every band had it own "greatest" thing and we can't deny that TASYIM also had it and that what we offer. Our effort is to play music. TASYIM tremendously shows the heritage Malay races and the pride to be birth as chocolate skin, black hair, black eyes and so on. The music we direct was Death Metal. Accurate definition would be the art of Human Soul. We create a true direction from our races to be musical composition. All the dark, aggressiveness, melancholy, etc combine intone scope. It is true that lots of bands have emerged as Malay band but can you see or hear the difference? Popularity consisting of 'own true music' has polluted the scene but still one will survive and only the listener will define it nicely…

You guys have been in the scene for years. What have you learned?
The educational learning through the scene over the years can't be judged by words. It's a matter of experiences. Even if you have been into the scene and actively contacts your experience would not be the same as ours. The course in our scene just a matter of good friendship. If this lost there'll be no scene at all. Same as collaboration between one country and another. We strong and survive if we unite, if 1 do we fought like 1 battalion? Te process of being scholar in Underground society is just by being your own self. No pretender or imitator. That what we really to survive…

Tell us about "Descendant Ritual". Did most of the song start with musical ideas or with lyrics?
Most of our song being direct by the lyrics. The moods from the utter vision of mine (poet) will bring landscape of TASYIM's music. If the riff come first, we'll re-organize to make it sure it suit the lyric. We're really concern up in this as we can hear most of bands don't really care whether their music was been direct or not. Lots of bands that we hear since the beginning had very contra especially from the music to the lyrics. That's why in the future effort we will print out the lyrics as well so that everyone would experiments our music thoroughly.

From what I've heard, your lyrics are more towards ritual/poem from another side of Malay culture. How do you define that? Why?
All that we spoke and sung are from our heart. We're Malay and that's why most of the lyrics had Malay words as not all of our words can be translated in English and kind of being different meaning. The theme will change significantly if we translate all of it unto English. We bring out Malay Culture through our music. Inties are mysticism, ghost literature, mythos, magick, rejuvenation, etc. Right now we're in the making of 2 versions of songs that will be in Malay and English. We have been influence by a few bands to make the same thing. This somehow objectively to make a song that is both in 2 languages. The title also will be change due to different language.

Give some comment about your split with VISITANT. You seems quite disappointed with it. What do you really hope for this split?
We're not hoping much from this release as our sound was too crap. It's suppose to be release as Advance Tape to let everyone hear our new effort but since Permatha Pathah urging us to record something for him to release, so we gave this advance to be as a split. VISITANT side was an ideal band to make the release more perfect and to spread their name in the scene. Whatever it has faced, it has been released and we are quite thankful to PPR to release it wonderfully…

Most of us involve in the music scene as a hobby. But for some person to make wonderful quality music it is not just a hobby but a commitment to the music itself. What about you guys?
If we said we're 100% committed to music that is too much and we think it's lies. We're not musician, we had our own career to survive but we are 100% at the back of our music as it was 'us' you hear. Every one of us scram guitar when we're free and we search lots of moods to interpret the melody. Depending in what situation the lyrics need. Quality music defines the intellectual of the music itself. The compositions off music that speak the atmosphere that the lyrics need. Perfect combination should make the song killer. Try not to clone others and it shows how much bad you're as composer..

Another question about "Descendant Ritual" demo, I'm quite interested in this song, "The Blessing Moon Of Teluk Tongkang". What's really about and why did you choose this as one of your track in the demo? Who responsible in writing the lyrics and making the music?
"The Blessing Moon Of Teluk Tongkang" was been composed lyrically by Shaman an musically by Farouk and Khairul. We proud to be raised by Kuantan our area and by that pride we begin to make some contribution to show our appreciation. The beauty of this song was the Telok Tongkang. The place that everyone will chose to camp and swim but not all of them know the hidden passage of that place when the moon arisen. Shaman had a few experience there and also a very interesting story from the elders about this place and that's why the ideal moods was in the music itself. Here attached the lyric and feel the sensation by yourself…
Fairy was not to be told, As the hidden celestially, Telok Tongkang veil the sacred tale, And the tale inherit through the decades, Visions emerge vividly, The potraits of pain and grief revealed upon the hills, Grimness filled the air with mass, Masquerade genuinely aired with the blessing moon, She, they or them dances heavily, Till the moon fall apart, Nor they or we know who they are, As the tale shines in Telok Tongkang, Angered, lust and pain wilt be their domains, Angered savagely to humans molesting their throne, Lust passionately for their kingdom and races, Pain savagely for those who suffer the consequences, The myth and tale combined with Pantai Bulan Mengambang, As spoken the power of Mambang, Nor sihir or magic can defy, Extreme illness massacred the ignorance, Nor kemenyan or serapah can heal, May the mambang and his reign dwells among the tale, That have been inherit from decades, Myth, tale and magic remains scattered by The Blessing Moon Of Telok Tongkang

Which studio did you use to record this demo? Do you satisfied with it? How many tracks did you use?
Rhythmix Studio was been suggested by our friend that work there (Razi now drummer of AGHAST). We're not too fond in complete studio recording (tracks, etc) and we had very limited experience in controlling the sound system. Thanks to our friends for being there when needed. Lalok and Acai of KNIGHTWAR, Azrin of SILENCE ENSHROUD, Wanie ex-NUCLEAR WAR, Lie of BAZZAH, Cfoo and Atan of DIRTY DOGS and the rest of the gang. Satisfaction should loose if it's our first and we shall get higher in the next time. We don't really know how much tracks that we used as it all in computer (recording digitally). Perhaps, below than 16 should suit the sound that we recorded.

What can people expect to see when you guys play live, which they may not be expecting?
The dress…we are not a clown so we don't wear anything that you want us wear. We just play music and any expectation about us should only for the music. Someone expect us to lay with Baju Melayu, terompah or selipar, etc that's bullshit. We dress like that when it suit the occasion not in front of hundreds of people. We play our music as perfect that we can. We saw lots of band had dress code but their playing was bullshit. We hate this kind of band so please do not ask us to be one of them. We want to play perfect music skills not imaginary on stage.

How do you look through our music scene? What did you guys really see between the people and the music itself?
The music is just a music but numerous of them think that they are the music. When their bands have been popular, they began to change attitude and think they are better than the others. No more interview bullshit like that as they already have a label to promote them. Commercial hunger for this type of guys and they all should take this opportunity and become one gang… the greatest Suffercation. Music defines what we have in our soul not in our body. With paint they colored their face and with spike they shows everyone that they are 'evil' than others. What these all for? To show something that not all can done? Or it's just something special that you're so glamour only in your area/country… we'll piss on your grave.

What do you have in for the future?
We'll keep the scene higher and began to split with oversea bands in the future. Composed relaxing soul's food to all of you. Speak no lies and revealing the true definition of music. Thanks for this interview and we hope when it has been ready, our eyes can read it. Thanks to all and please support us by buying our debut demo "Descendant Ritual". It's only for RM6/USD 3. Thy shalt meet again… Orang Melayu wilt Conquest…

c/o Khairul
A 3152 Lrg Kubang Buaya 85,
25250 Kuantan, Pahang,
Malaysia.