Interview done in September 2002.
Hails J.Read! How have you been doing these days?

................

The band started out with your own idea right after the demise of the legendary Conqueror.What makes you decided to form Revenge? Why not continue working with Conqueror? I do believe that you can still record some new stuff with Conqueror! Do you have any problems with R Forster? Anyway why do you call Revenge music as "Superion Attack Metal"?

I refuse to taint the name of Conqueror and reform or continue it with none original members,R Forster and I are in close contact and he has contributed to the new Revenge.

You have released a Mcd called "Attack Blood Revenge" somewhere in 2001 if I`m not wrong.Mind telling me more about it?
The ep is a Canadian Holycaust Attack.

You have recorded Conqueror unreleased track called "Superion Revenge" in your 7Ep "Superion Command Destroy". What is the song is all about? I must say it has a very deep meaning. Can you reveal me the whole story behind it?

It tells of those who hail the superion banner striving for Revenge.

How did you get a contract with Osmose? Do they approach you and ask if you are interested to be a part of their legion? How many albums will you release under Osmose?

Osmose will release the new full length and anything can happen in the future.

Alright the very latest news I heard about Revenge is that Pete Helmkamp of the famous Angelcorpse(RIP)have joined the band.What is his position in the band? Is he handling the bass and vocals just like he did in Angelcorpse? How did you get him to play with you? Is he also talking part in writing songs for Revenge?

This colaboration was years in the making. Helmkamp will play bass on the new cd and do bass and Vocal attacks live.

You have told me that Revenge will record its very first album at the end of September.How many songs have been composed so far? Can you reveal some of the song titles?

Pete will play bass on the album and some new attacks on the enemy are Heathen Hammer,Decimation Antichrist,Attack the Enslaver.

Will you be singing in Revenge upcoming first album? If both Pete and you sing it would for sure be more evil! Any vocal effects will be used in the upcoming album?

I will always do vox on all Revenge albums.

Since Pete is already in your band I guess you have no problems touring with Revenge! Will you start touring with Revenge after the release of the first album? Where is your destination? I guess Europe is a wonderful place to start a tour.What do you think?

Europe would be the destination if we tour.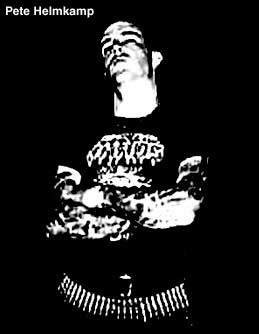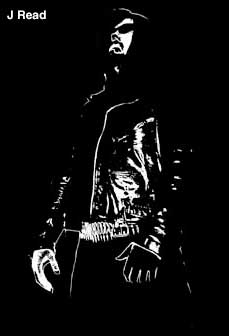 You have also drumming for France`s Arkhon Infaustus! How was playing with them? Also if I`m not wrong Osmose will be releasing a split 7`E.P of Revenge with Arkhon Infaustus in this year.Can you tell me more about it? Are the songs in this split taken from the previous releases or you will write new ones?

The tour was a holocaust The ep will have a new song.

I like Revenge symbol very much! What does gasmask represent in Revenge music? Do you wear it during your live performance?

The gas mask is a Canadian cult death war black metal symbol.

What do you do for living? Are you working or just playing music?

................

Have you listened to Impiety last album "Skullfucking Armageddon"?

Yes I`ve heard Impiety.

Okay J Read we have come to the end. Anything else you would like to say to the readers?

Trust no one.....................