Greetings!!! May I know who answering this interview? Have you heard of Steel Madness Zine, SouthEast Asia Metal Force website or any other Southeast Asian metal before me?

Roy is answering this interview.
We know little about the metal scene in Asia in the past. We have friends that had showed us some CDs from some metal bands in Asia, but only after we have released our CD, we started to know more about the metal scene in the other places in the rest of the Asia.

I often watch Cantonese movies or drama in tv, people wants to migrate so badly before China take over Hong Kong from the British. Now years passes by under China's government. How's life in Hong Kong? Is it bad like mentioned in the movies?

First, I have to apologize that I know little about political issues. But as far as I can observed, there isn't really much changes. China has taken over Hong Kong, but we are 1 country, 2 administration system. We are SAR (Special Administration Region) and is taken care by our own Region.
Our relationship with mainland China is getting closer and closer, but so far there isn't any obvious changes that I can observed.

I never expected to hear metal in Hong Kong. I once in contact with a band called DAWN OF APOCALYPSE from Hong Kong but later I know that the frontman is not from Hong Kong. Do you know this band?

Yes I know Tommy from this band. He was told by his friend about HYPONIC and he bought our CD while he was still in HK. He then returned UK and contacted us. He run a label in UK and he bought a few copy of Black Sun for sale. And I don't know that he's from that band until recently.
Seems that all the band members of Dawn of Apocalypse has left HK now.

Before we get to HYPONIC, do you mind telling us the metal in Hong Kong? Are there any good metal bands, zine and labels worth support and spend our money and time with?

So far, we are the only metal band who has released a CD. There was a band in HK called Azylum who has released a EP and then disbanded. They play thrash metal, the kind of Sepultura's.
At this moment, there're a few bands who's now recording their CD, but dunno when it will be released.
For magazines, there're 1-2 zines that mainly talk about hardcore. They'll sometimes talk about metal.
And talking about metal label, the one and only is trinity records HK.

Do many people listen to Metal? How about gig? Do you guys play live often?

Only very little amount of people listen to Metal, but I think, like the rest of the world, this little amount is getting more and more.
If you read our booklet in the CD, you'll know that we don't really have a drummer, making us not able to play gigs. After "Black Sun" is released, we're lucky to have a friend to help in playing the drums for a few shows. So, the shows that we've played so far is countable. 3 in HK, 1 in Shenzhen, China and 1 in Taiwan.

I only got your CD but no info about the band. Do you release anything before "Black Sun"?

This is the first CD that we've released. We're now writing new stuff and preparing for the second one.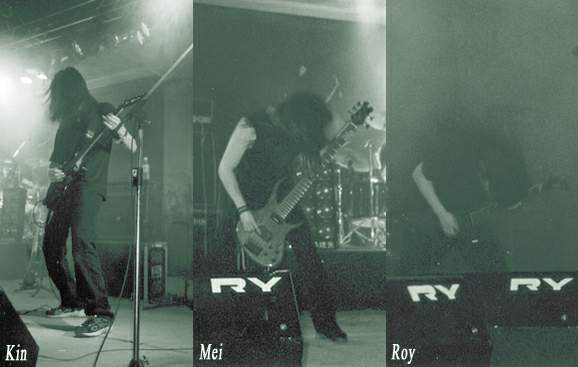 First of all can you tell us about the past and the present of HYPONIC? How the band get together and why the name HYPONIC?

The original HYPONIC started with me and our old guitarist and that was in 1996. But at that time, we only play some cover songs. We started to write our own songs in 1998. And since then, the band members are keep changing and I think it is in early 2000 that we have the present line up, Kin playing guitar and Mei Fun playing bass. I'm on guitar and vocal.
The name HYPONIC is given by the ex-guitarist which actually has no special meaning. Black Sun was released in May 2001.

How would you define your music? It is easy to detect your influence by listening to your songs but to ease those who haven't heard the band yet, tell us a bit your influences.

We think the most suitable one is Doom/Death Metal.
We like all the doom metal bands that you can think of and the PURE black metal bands (NOT IMPURE BLACK METAL).

Now introduce to the readers "Black Sun" (the songs, concept, recording session, songs creation, everything...). The CD was released by the band yourself. How much does the production of the CD cost?

There're 6 songs plus 1 hidden track in Black Sun. The songs are all like stories, talking about our feelings on human weakness.
Labyrinth of Ignorance is a fast one, talk about the ignoance of the Hong Kong Chinese. Lost, ignorance, weak,non-nationalism...
A False Legend talk about human like to show off the past glories, civilization and wisdoms, but behind that, there're lots of ignominy.
The Last Divine is about hero-worship.
Third is a more doomy one. It's about an insane person.
Vile is again a fast one. It's about superstition.
Black Sun is about lies.
The hidden track is a slow one and with some doom elements.

What does "Black Sun" means? Are you satisfied with your final output? Would you like to change anything the next time? I think "Black Sun" is great, considering that you guys done it all by yourself and also with good sound.

We think that this name goes with our music.
With limited equipment and money, we are satified with what we've got.
Music wise, we of course wanted to be more unique and hopefully we can create the sound of HYPONIC.
We will continue to release the next CD by DIY.

For the CD the band consists of 3 members, Roy, Kin and Mei Fun. Tell us something about the present and previous line-ups of HYPONIC.

We're still a 3-piece band without a drummer.

Like many Asian metalhead that I know, they are not full time musician. How about HYPONIC? What do the members of HYPONIC do in their full-time?

I myself is a guitar tutor.
Kin used to work in a graphic production house, but he quited recently and is looking for a new job.
Mei Fun is a clerk.

Have you ever heard any Asian metal band especially from the Southeast (Malaysia, Singapore, etc)? What do you think of the Asian metal scene in general?

We have a CD of Abattory from Singapore. It's quite good.
And we have a compliation which is released from Mainland China. Those bands are all from China. Some of which are quite good, like Bitual Day, Suffocation (not the one from western world), etc.
We all should work hard. I believe that only those who can pass every difficulty and still be faithful to music will become really outstanding bands.


Thanks for your time. Anything else you want to add? Is there any merchandise for sale? How much the CD cost?

Those who would like to get our CD can contact us at hyponic@asiamail.com
Our CD cost something like US$8.


HYPONIC
c/o CHAN Chung Man,
Room 2, 6/F, Block B,
Yee Fat Building,
Wo Yee Hop Road,
Kwai Chung, Hong Kong.
deathgothic@yahoo.com
hyponic@asiamail.com