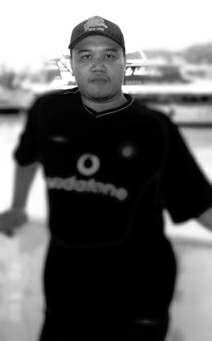 Interview done in December 2001.
Salam. How was your Raya holiday? Busy visiting relatives and friends?
Salam….Today is 7th Syawal 1422… (ed: 22 December 2001) I organized an open-house today mainly for the Metalheads. Some cool friends, bands & individuals in the scene turned-up. It's fun, but more importantly is the feel of satisfaction being with these new chaps from the Singapore Metal arena. Dark-E (Vociferation Eternity) turned-up too later in the day… imagine that I had this guest which came all the way from Ipoh.
Aildilfitri hadn't been too good for me this year, yeah... putting the joy of celebration after 1 month of fasting aside, not being able to celebrate it with late Grandma who passed away just before Ramadhan really made me feel alienated. I'm just not used to not being with Grandma on 1st Syawal. May Allah blessed her soul… Al-Fatehah.
Were there any of your guess is policemen or someone from Kementerian Dalam Negeri? How were you when the 'black metal thing' happens?
About that 'black metal issue', to be frank… it affected me very little as As-Sahar is just a hobby. However, seeing how much Jaie & his Nebiula & his Sil-Khannaz were heavily bombarded by the jackasses press, made me sick, really sick. That is throwing sand into his pot of rice! ...And all just b'coz of making underground music as a scapegoat in canopying certain sensitive political issues. Nope, I haven't got any guest from the agents you were asking as yet… It's OK if these people wanna visit me for Hari Raya or whatever reasons, but one word about the 'Black Metal' saga, and they deserve a Stone Cold Stunner!
Sorry spoiling the 'merry raya' mood. What happen actually after the release of "Baku Karama"? Lots of my Singaporean pal said there are some conflicts among you guys in AS~SAHAR.
The conflicts are within ourselves only, not an open discussion for some 'kay-pohs'. Sometimes male Metallers do have 'mulut Mak Janda' (those Singaporean pals u mentioned) …this, I don't understand. As-Sahar did broke-up in 1999, in which I would only say over psychological conflicts… The Game is not a roulette. With the trigger in my hands, The Game was won. A mind-game which remains a game indefinitely…. As-Sahar did broke-up but, As-Sahar can never be NOT alive & kicking again. Syukur-Alhamdullilah, Nebiula Productions always have that trust & strong sense of beliefs in what As-Sahar could deliver, …and that As-Sahar today is me, in whatever form, a medium for me to express my feelings.

(click for larger image)
Do you see "Baku Karama" as a mistake you make in the AS~SAHAR's history? AS~SAHAR have been crowned as the cultest Malay black metal and in my opinion "Baku Karama" smeared the reputation. You can still enter RIM chart or sell more albums by forming other band and go mainstream.
No, it was never a mistake getting away from Malay oriented-Black Metal. I never see As-Sahar as 'the cultest Malay black metal' like how you see it. I dislike that term, really, 'coz there are other local bands way better than As-Sahar (ed: With the same concept? LANGSUYR will share the same title.). They deserve the praise, not me…not As-Sahar. I was never gonna play the same kinda style, albums after albums. I was starting to compose such songs badly after 'Phenomistik'. The excitement was just not there anymore. As a musician, a composer, I need to try other things as well. I had always wanted a Rock album as a reminder that I came from the 'Battle of The Bands' or 'Juara-Juara Rock' era… talking about musical roots, that is just it. You see, in years to come I can say, "Yeah, I have a Rock album". So, all in all, just a fun-project. As-Sahar, like I've said is a medium of expression, not a band to be worshipped by fans.
Why actually the band made the drastic change back then?
Most of this I've answered in the last question, however…at the same time I bet, just the inner-selfcraze at that time for some Motley Crue, Ratt & especially D'Febians & Helter Skelter stuffs. Taking risks, fearing low-level-acceptances are not my concern… a hobby band anyway.

It is a surprise to see AS~SAHAR "Intifada" released. The music is now back in death/black style and the concept have change as well. AS~SAHAR is known with its Malay/Bugis occult/myth as the concept. Why make these kinds of 'positive' changes?
It's about One Barchiel the musician, the composer, the entertainer…or 'yang sewaktu dengannya', again not about catering to fans' wishes. Underground music is all about self-satisfaction, doing what you wanna do without anyone restricting it. Lyrical-wise, it's the same too. There's lots of other topics you can dig into, not just the usual darkside themes. Take a look at Europe… there's underground techno, some ecstasy-related matters. Pretty cool that one is.
So what must we called AS~SAHAR music now? It is not E:Lust:Ronika Gothrock and absolutely not Tahyullistic Orientismost Bomohnyms Occultistry (how did you came up with these words?). It looks like the band is turning into 'white metal'.
Those words are big fun, playing around with words kinda thing. Just like 'Can you smell what The Rock is cooking'… what sense are there? 'White Metal' too is just a term people created. There is no rule stating that you can't put religion into Metal… if that's a crime, I wonder what will be the court of law's verdict, under which Section, which Act? I don't want any categorization for As-Sahar's music of today. Call it 'music', that'll be fine with me.

"Intifada" come with a new and interesting concept. What actually you want to show with this album?
Certainly it's not a religious album, not some Islamic preaching. Browse through the lyrics … do you find me singing something like "Hey kids, come, let's pray, leave all your sins behind…". No, no way I'm gonna do that b'coz I don't feel I'm the right person to do such a thing…I'm still far behind the status of an ustaz! "Intifada" is about war, freedom-sought Palestinians, human rights.

Why not release another album in "Baku Karama" style? Watching AS~SAHAR playing in Kuala Lumpur at Zodiac in Kuala Lumpur (1999), we are almost sure that AS~SAHAR will stay in this way since you guys are not playing any of your old black metal songs.
Perhaps… someday, somehow. Only God knows when. Maybe, I'll go back even to the days before my Rock days… Hahaha! If "Baku Karama" is about musical roots, maybe I'll do a musical respect stuffs then… You see, those days of Uji Rashid, DJ Dave, Othman Hamzah, Halil Chik…. add a few more to this list, Mr.Editor….(ed: I ask my mom later...)

You are the only forming member of the band left. Where did Hanael go? He didn't involve in "Intifada". That means he is out of the band? What is the current AS~SAHAR line-up?
He has become a father recently. So, family comes first. He has his own band now, a band which he formed even before the birth of As-Sahar, that's Requiem. Out of the band, my mouth wouldn't say so, but my heart does. As-Sahar's line-up today is only me plus a few sessionists(this may vary from time-to-time or from recording to live-shows).

Will you be able to play live with current line-up? Or maybe I should ask will AS~SAHAR play live after this?
Yeah, I've got a couple of chaps, my friends who will get involve in As-Sahar's live shows.

Do you know what Uriel and Iblyss doing now? And Djinn Itam?
Uriel, we contact each other pretty well. I never fail to update him on As-Sahar's progress. Iblyss, I really have no idea… a logistic officer at a warehouse, I bet. Djinn Itam… hah, that man, a nursery worker - of plants & fertilizers & insecticides.

In Panggilan Pulau Puaka Vol. 2, there's a track from you which I assume as your solo project. Will there be any follow up from the song contributed. Will you release something using the monicker "One Barchiel"?
"Intifada" was supposed to be that solo-project. The songs were restructured into the As-Sahar kinda trademark. I don't see there's a point in having 2 'one-man-projects'. I'll stick to As-Sahar, then.

There are some new metal acts emerge from the scene in the last few years. Are there any new Singaporean bands that you like to recommend to us?
Raspatul & Sihir seems promising. Urban Karma too, is damned great.

The world is becoming more interested with SEAsian band. Lots of Indonesian brutal death bands will have their album licensed or release by oversea label. Our local labels also have improved their promotion abroad. Your friend IMPIETY will have 3 album released by Osmose. What do you think of our current local metal scene?
That's a progress from the 80's & 90's era. That's healthy developments.

AS~SAHAR is known as a Singaporean band and the mailing is in Singapore. But after "Baku Karama" released, you claimed AS~SAHAR is a Malaysian band. The question is what is the 'nationality' of AS~SAHAR?
I'm a Singaporean of Johor-origin. Still so very proud of my birthplace. I feel very much a Johorean. I don't really adjust & fit well to the lifestyle of a typical Singaporean, just not me. I feel much more ease in my kampong at Johor Bahru than the hassles of life in the city-nation named Singapore. So, it's the pride of being Malaysian-born that overcomes me, always & forever. Hail Malaysia!

Do you involve in any projects beside AS~SAHAR? How about Depressive Monsoon Zine? Do you still doing it?
Just about to start again that 'zine. Issue-3 shud be in process by the time this intie is printed. New bands from the South East Asian region, yeah, especially new bands… I need you for the 'zine. I'm involved in Profanation (ex- Profancer & Beheaded Nasrani) too - a Death Metal band. Hope to record an EP soon & before that happens, no further comment.

Do you still in contact with Shah of MEMORIES RECORDS? Will he release the split CD with HAYAGRIVA?
Nope… no news about him or the release. "Let It Be, Let It Be, Let It Be, yeah Let It Be…"(sing this one to the Beatle's tune…)

Can we expect another full-length from AS~SAHAR? Will there be any 'surprises'?
Not so soon, 2003 maybe… Surprises… hmm, I won't judge my own music, listeners should…. Surprises, are not meant to be told, they are meant to be discovered. That's a pretty simple rule. Watch World Wrestling Federation… lots of surprises in there. Characters do changed.

I think that is the last question I have for now. Thanks for your time. Oh yeah, by the way, 1 more thing. What is your favorite WWF wrestler?
Stone Cold Steve Austin… and that's the bottom line! WWF is coming to Singapore & Malaysia this March 2002… c u there!
AS~SAHAR
c/o Ridzuan Abd. Aziz
Blk 58, Marine Terrace, 07-57,
Singapore 440058
oneassahar@yahoo.com