It is not a secret about the sudden boom of 'old school thrash'. The old 'legend' bands reform and more new bands emerge playing the so-called 'old school' metal. When now we now about WARHAMMER, which can be said as HELLHAMMER clone, now we have APOCALYPTIC RAIDS. Why this old school craze happening worldwide? We got Necromaniac here to discuss more about this.
Interview by Syukri.
APOCALYPTIC RAIDS already recorded songs for your debut album. Do you mind talking more about it ? I've heard the advance tracks and all songs from the rehearsal demo have been re-recorded but nothing much of difference from the previous version except a bit fast now. What sort of surprise that we can expect from the debut album ? Could you please write what are the songs are all about track by track (especially for the debut album) ? Do you include all the 12 songs or there might be some songs being left out ?

Well, we haven't recorded The Impaler for the album, it will be on the second one. I think the sound on the album is a lot better. The demo was recorded in one take, just a rehearsal. The album had a very nice production, we think about each detail. The drums are heavier, the vocals are better, the guitarsound has been improved, so I will leave up to the reader to hear and compare it to the demo and see our improvement.

The songs:

The Enemy (Intro) - This is a 40 sec. intro, the clock strikes twelve, the demons roar and then...

Evil - This is a fast right in your face song... Catchy chorus, raw songwriting, a song to hellbang!

Forgotten Tales - Another fast one, a statement of power and force. The lyrics make reference to almost 50 bands of the 80s generation, a must read...

Into the Twilight Zone - Time for a slower tune now. This is a more complex song, the tempo evolves from the slow beginning to a faster, heavy ending. The lyrics makes reference to the old morbid series...

Eternal Gloom - This is a mid-tempo in order to regain speed. First lead break of the album, a very intense song to headbang top...

Angels of Hell - Fast. Intense. Diabolic. Evil Incarnate. Insane. The oldest song of the album, but still the most intense chorus of them all... Another lead break, this time a harmony solo, everything 80s... Ha Ha Ha Ha Ha...

Humankind Dies - The most 'Hellhammerish' song of the album. A straight song about damantion of the human race, no solo, no complexity, just note after note of misguided repent going straight to Hell...

Tyrant, Emperor - Some people say this is the best song of our demo. A simple, heavy, very slow tune, with a military funeral mid-break part including a narrative. We redid the song putting more heaviness.

Apocalyptic Raids - Speed and catchy chorus to end well the album... Filthy ending, the sirens sound and then... The Total Holocaust... Hear it if you can...

Tales of Horror (Outro) - After the Nuclear Fallout, only the fear and pain dwells on a scorched earth... Slow death, suffering destined to occur... The day mankind has perished.

4 songs are out of the album,

The Impaler (from the demo), The Way of the Warrior (it is in our VHS), Masters of Mayhem (destined to be the fastest tune in the second album), and The Atheist (mid tempo song against all beliefs...)

And more are coming... Ready to go (to Hell), Makind Defeated, The Return of the Tyrant...

How was the response from the listeners for the demo-rehearsal CD-R, APOCALYPTIC RAIDS first release ?

There was a good response, and we have received a lot of letters and sold a lot of demos after publication on local mags. It is a good result, considering we have to do our own management, we have to do everything from paint tshirts to tune the guitar...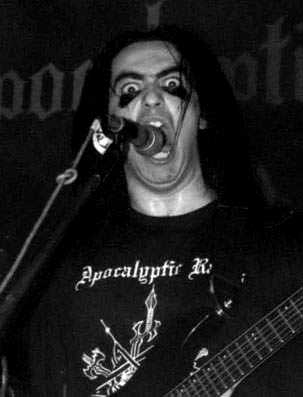 As the bio said, APOCALYPTIC RAIDS have 12 brutal compositions and some were made in 1985 but the band was formed in 1997 with an objective. Were same line-up (now) involved with the song making ? Tell us a bit more about what pre-APOCALYPTIC RAIDS time. APOCALYPTIC RAIDS is surely not a project band since all the line-up left their previous bands, giving full commitment with the band. But why wait until 1997 ? Is it have anything to do with the 'old-school revival' phenomenon which going on right now ?

The songwriting is done by me, Leon Manssur 'Necromaniac' and Gustavo Belo 'Adrameleck'. In 97, we were playing in a Death Metal band and we were not satisfied with the sounding being too modern. We found our old tapes with good unreleased songs and we began playing these that are seeing the light of day now...

As we were playing, we became aware of the revival phenomenon. That is strange, we had the right feel on the right time. We have played what we do now in the 80s, but in the 90s we were playing in Death and Black Metal bands. At some point, that wasn't satisfying us anymore, modern stuff without the right feel...

It is very natural for us to play like that again, we just began doing that 15 years ago, so the revival phenomenon just gave us the force to proceed...

Why choose APOCALYPTIC RAIDS as the band's name ? Is it your way paying homage to HELLHAMMER ? One can't get their mind of HELLHAMMER hearing the band's name and even the pentagram you used looks similar to HELLHAMMER's heptagram.

I am obssessed by Hellhammer. My favorite records are Hellhammer's ep, followed closely by Bathory's The Return and Sodom's In the Sign of Evil...

So, maybe in a way like Warhammer, I thought: 'Why not? If there is anyone who can use the name, it is us, we were there, we are the heirs to this sound...'

After that, an interesting thing occurred. This name stands like a shadow over us, it prevents us from playing music other than 80s stuff... We are a lot more self-crictics after that. It became a symbol of what we came from, of what we are, and what we will become.

Personally, what do you think of this 'revival' thing ? You were there, in the 80's as band, so what do you feel when more and more 'old-school' now ? Even some 80's band which didn't last long (disbanded) are now gathered and reformed, taking advantage of today's situation in the scene.

Well, I just can't stand modern stuff. Bad songs (too complex without contents), bad musicians (not technically, but feeling-wise), recorded in the wrong way (well maybe right for dance music).

I can only hear new releases from people like Warhammer, Pentacle, and the likes. I do prefer to hear a mediocre Slayer copy reformed, than to hear a mediocre Darkthrone copy proud to have a bad mix or a mediocre Helloween copy with uninspired songs or a mediocre Death clone with songs going nowhere, or ...

I think time juges everyone. The good stay, the bad fall. Modern or not, we will, in time, see who will make history and will be remebered, and who will not...

Lets talk about Brazilian metal scene. Everyone know Brazil is the home for SARCOFAGO, SEPULTURA and also known as one of the best thrash metal scene in the world some times ago. What do you think of your scene now ? Is there any new band which might be the next metal sensation ?

In view of the facts told above, there are some bands rising right now. I would cite Demonthor and Nocturnal Worshipper, between many others. I mean, if the recording labels don't ruin everything by signing the bands and then leaving them to dissapear without having the money to do a second album...

Do you know anything about the South East Asian metal scene, especially Malaysia/Singapore ?

Man, sorry, but I know not a thing... Well the little I know is from your good work...


Thank you for the answer. I'll leave the rest of the space for you to promote and convince us as well as giving strong reason why must we, the fans of extreme metal support APOCALYPTIC RAIDS. All the best for you and the band.

We did a hell of a job in studio. Our record may not be perfect, but we have thought of every detail. The true old Death Metal fan will be rewarded for years of loyalty with our work, we hope. It is out now when you are reading this, on Demise recs. Featuring the cover cemetery b/w photo by Scottish photographer Alan Wilson.

Please check our site, www.geocities.com/apocalypticr or write to us at apocalypticraids@yahoo.com or c/o Leon Manssur, C.P. 44.034, Rio de Janeiro - RJ, CEP 22060-970, Brazil.

Apocalyptic Raids from Brazil would like to tell you that our 1st full lenght CD is out now, appropriately called Only Death is Real...

Expect more heaviness, more speed, more agression, and older sounding than our 99 demo-reh. We are very satisfied with then final result, so please check our site www.geocities.com/apocalypticr for the cd cover, mp3, new photos, lyrics, and more. Sign our guestbook or drop us a line, apocalypticraids@yahoo.com

Please spread the word, the Pure Essence of Darkest Evil and 80's Metal is back...