ISTIDRAJ is one of Singaporean bands which I know from the internet. Having heard of the name ISTIDRAJ is one metal mailing list, I guess they have something interesting to offer. Afterall, they have an album out. But after listening to "Metafizika" I felt a bit dissappointed with the music. They are not really my blood.
With an album under its belt and existed in the scene for 6 years, I feel its strange that they are not known in the local scene. Because of this I have a chat with Ian to know more about ISTIDRAJ.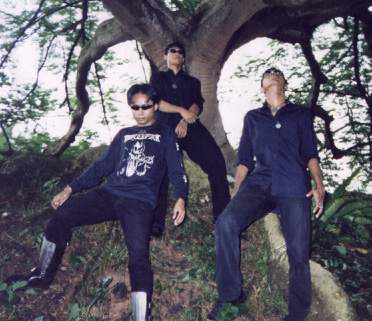 The band existed since 1993, howcome in 1999 we heard about ISTIDRAJ in local metal scene ? I wasn't clear of ISTIDRAJ early history. Could you name the very first line-up and why 2 of them depart from the band ?
[Ian] In our beliefs, the false ones does not belongs to…ISTIDRAJ took the opportunity of time & space available to increase the capacity of oneself. When unity is strengthened & the capacity rises to greater heights, then only we merge into the local scenes. For the history, it's useless to indulge on the past. The future looks set to be bright & we are working hard towards it. The first line-ups (5 souls) are: Ian @ Aryan, E - Aiman, Zah, Idris (ex-CASTIGATE) & Sielluman. the 2 souls (Idris & Sielluman) left the infinite journey due to different personalities.

It took 6 years for ISTIDRAJ to come out with it debut release. What happen to the plan of releasing demo in 1995 ? What kind of unforeseen cirsumstances that make this plan fail ?
[Ian] Based on th early line-ups, ISTIDRAJ had several originals ready for a release.
However, males in S'pore are subjected to some requirements & by then we gathered again, we discovered split interests among us. Which is why we decided to suspend our activities by revamping our line-ups & re-shaping our minds & souls to unleash the darkest power.

ISTIDRAJ is an arabic word if I'm not mistaken. What does really means and does the meaning has anything to do with what the band is now playing ?
[Ian] ISTIDRAJ (dawn of apocalypse) derives from an Indon writer who studies arabic during his time. De souls of istidraj agreed upon this name by projecting our music gradually & eternally.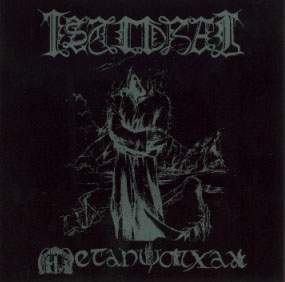 ISTIDRAJ's debut release is in the form of an album/CD. Could you please talk about the making of "Metafizika" and the decision of releasing it in CD ? I also welcoming you to introduce Esoteric Art Production to the metal masses since I've never heard of it before.
[Ian] ISTIDRAJ had planned carefully from the start. It took us six months to prepare for Metafizika project & 12 hours of recording & mixing. We manipulate the modern technology
for our good cause: that is to present quality to the music listeners. As for ESOTERIC ART PRODUCTIONS, we are trying to compile various bands from all region for distributions everywhere. Sadly, the move is put on hold now, as we have to attend to some serious commitments. However, we will continue again once we ready. Awaits the returns.

ISTIDRAJ once play in a show together with local grunge/hardcore band. Since ISTIDRAJ is the only metal act on that day, how was the reaction from the non-metal crowd ? How many gigs ISTIDRAJ have played so far ?
[Ian] ISTIDRAJ had played 3 gigs so far. In one of our gigs, the gig that you mention is Journey To The Realm Of Unknown gig. The response was positive, but ISTIDRAJ wasn't the only metal band that perform that gig there was a trash metal band called MORTUARY. ISTIDRAJ perform that gig because the organiser of Area 22 invited ISTIDRAJ to play as last band of the gig & I designed the flyer for that particular gig as it was being requested by the organiser. The first gig was excellent (Area 22/Metal's Night) but the last gig (Lagenda/Helloween 99') was a bit disappointing due to lack of preparation. Generally, the crowd was more critical compared to others around the region.

You're getting married on August 2000. Congratulation ! Do you see marriage/having and raising your own family, having children as burden for you to get more serious with the band ?
[Ian] A birth can be creative & it can be a bloody business! Ultimately, wisdom & divine power can guide us to the brighter path. If you have passion, then you don't feel stressed about your respondsibilities.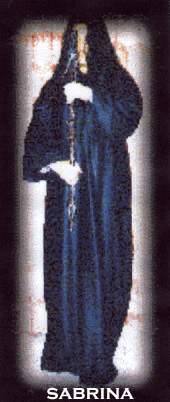 How about others band member, Aiman, Zah, Graven & Sabrina ? Are they having the same big responsibility like you (I mean are they all married ?)
[Ian] ISTIDRAJ gathered upon the bondage of brothers & sisters sworned till eternity!
There 2 couples who pledged loyalty, coming soon there will be 3. As for graven, we respect his opinion & thoughts of not revealing his identity.

The readers might want to know what ISTIDRAJ songs dealt with ? There are short description of the lyrics of song in the CD but it is not clear enough. Maybe you could summarize it for us ?
[Ian] The compositions of ISTIDRAJ deal with nature, human mysticism & it's dimension. The short scripts of every song are presented on the cd is to give an overall view. It represents the paranormal insights of "Metafizika". Readers have to do more than read: "That is to understand".

The lyrics dealt with eastern-occult theme. Lots of our local band are into writing this kind of lyrics for their songs and too proud of their heritage. What do you think of this ?
[Ian]For ISTIDRAJ, our passion & interests lies in protecting the truth! We act accordingly to the ancient memoirs, we are proud & pleased to present nothing else but the truth. Anyway do listen to the last song on the metafizika cd "Ngecongan Ngestabe" which are sung in purely in thy mother tongue. Hail Bawean!!!

Local most talked-about band right now, AS SAHAR...have you heard of their Baku Karama CD ? What do you think of them and their new direction in music ?
[Ian] AS SAHAR are undeniably a pioneer in our local scenes. For their new release & directions in music, we respect their decisions. Ultimately it's their choice & we shouldn't interfere!

Anything planned for ISTIDRAJ after this ? When will we hear a another output from ISTIDRAJ ?
[Ian] Planing is stiil in the pipeline. Right now ISTIDRAJ is working on our new materials, perhaps readily available by the last quarter of 2000. Listeners can expect different atmospheres & variations. Awaits the awakening of Bhinneka.


Actually how may of the Metafizika CD being released ? They are still available right ? Is there any other merchandises for sale ?
[Ian] ISTIDRAJ "Metafizika" cd is still available for those who are interested. Many are still unaware that our printed t-shirts are also for sale! Write in to us.

Thank you bro. Good luck with your band and in your daily life and afterlife. Anything else to say ? Just say it...
[Ian] With fire I purify, with fire I burn!!!!! Let the nature remain mystery till eternity!!!!
Hail Bawean!!!! Bhinneka. Thanks for the interest in ISTIDRAJ & for the interview. Thy mighty bro.Syukri. So any one interested to purchase our metafizika cd album do send U.S $ 10 (World) / Sin $ 18 (SE Asia) / rm $ 45 (SE Asia). Only cash accepted. All prices including postage. Trades are welcome. Labels & distro's write for wholesale prices.
correspondence & etc. No rip - off.
Ian Istidraj
Block 371 Tampines Street 34,
#02-14, Singapore 520371
E-mail: lord_aryan@hotmail.com
note :
The band logo above is not the real and official logo of ISTIDRAJ. It is manipulated by the webmaster.